Bishop Opens New School Hall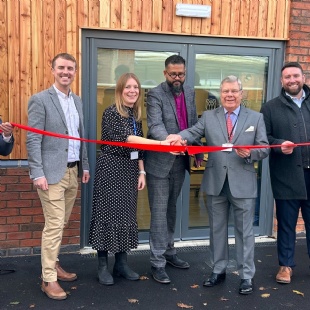 We were delighted to welcome the Bishop of Loughborough, The Rt Reverend Saju Muthulaly, to our trust school Thrussington CE Primary School on Friday, where he officially opened their fantastic brand-new school hall. The beautiful new building provides a much-improved learning environment for all children, who will benefit from its use as a sports venue, dinner hall, assembly space and wraparound care site, amongst other things.
The superb facilities, which the hard-working PTFA helped to fund, also include a wonderful sensory space, which has been dedicated to school governor Mr Patrick Rendall MBE and also honours Mrs Frances Rendall who gave so much support to the school during her 16 years as a governor.
Headteacher Mrs Roddy said;
Our new hall is such a special space; being able to come together as a whole school community is something that we haven't been able to do in school before. We can't wait to use it for lunchtimes, P.E. and after-school clubs.
A huge thank you to the team at R1Construction who joined us for the opening ceremony, along with pupils, staff, parents, governors and local villagers. The school community is now looking forward to enjoying the new hall and the benefits it brings for many years to come.